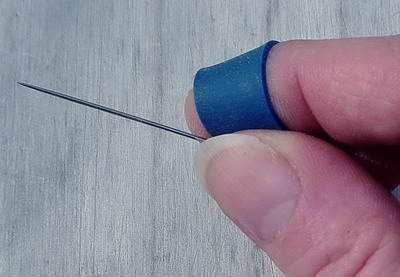 The Needle Grabber TM
comes in SMALL and MEDIUM. MEDIUM fits most people's index fingers,
some people's thumbs. SMALL is for people with very small hands, or children. Please note that these are small items and are a choke hazard to children under the age of 3. Not recommended for children under the age of three (3.) Please specify if you want SMALL size, otherwise, you will receive MEDIUM!
Single Pack
Original Needle Grabber TM

contains 4

$3

Teacher Pack
Original Needle Grabber TM

contains 12

$8

Guild Pack
Original Needle Grabber TM

contains 24

$12



The Thumb Grabber TM
this is the LARGE size
Regular fits thumbs and some large index fingers


Single Pack
Thumb Grabber TM

contains 4

$3

Teacher Pack
Thumb Grabber TM

contains 12

$8

Guild Pack
Thumb Grabber TM

contains 24


$12



The Needle Grabber TM Duo
you may need to find your own combination of needle and thumb grabbersTM to fit your hand.
Mix and match. If you want any combination, other than what is shown in these photos, please specify when ordering! Thank you!

Single Pack
Needle Grabber TM Duo

contains 4

$3

Teacher Pack
Needle Grabber TM
Duo

contains 12

$8

Guild Pack
Needle Grabber TM Duo

contains 24


$12

View Shopping Cart
If you wish to order a custom mix of sizes, please note in your paypal order!


makeabasket@gmail.com

Also available at:
MakeABasket.etsy.com
Royalwood, Ltd.
The Country Seat



Frequently Asked Questions/FAQs
Testimonials


"Pamela Zimmerman's Needle Grabber", TM 2011